Designed for youth, ages 15-35, from all parts of the globe, this Summit invites youth to talk to each other about environmental problems they confront and hear about innovative enterprising ways of solving them from some guest speakers. This is a chance for youth to help build peace for themselves and the planet.
PLEASE CLICK HERE TO REGISTER FOR THE INTERNATIONAL YOUTH SUMMIT.
We are proud to announce that Mary McVeigh of Soccer Without Borders will join us! We are currently in the process of finalizing the other guest speakers.
Mary McVeigh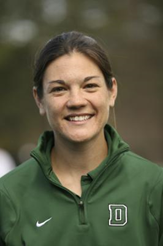 Mary McVeigh joined Soccer Without Borders from the college coaching and professional ranks. She earned her Master's degree in Sociology from Lehigh University while serving as an Assistant Coach. As a player, Mary led the Dartmouth Big Green to two Sweet Sixteen appearances and national rankings during all four years of her tenure, earning NCAA Division 1 All-America and Scholar All-America honors. Upon graduation from Dartmouth, McVeigh headed to the professional field as the 7th overall draft pick for the Philadelphia Charge of the WUSA and later joined IBV of the Icelandic Premier league. Under her leadership as Co-Founder and Executive Director, Soccer Without Borders has grown by every measure, establishing original infrastructure and leading programs across 11 countries on 5 continents that provide soccer and educational programming to refugee and immigrant youth and under-served girls. In 2016, Mary was one of 15 former professional female athletes selected for the Women Athletes' Business Network mentoring program hosted by Ernst & Young and the International Women's Forum. Previously, she was honored by the National Soccer Coaches Association of America's Jerry Yeagley Award for Personal Service for her work with SWB, and has presented at national and international conferences including the U.S. Soccer Foundation Symposium, Girl Power in Play, the NSCAA Convention, and Hofstra's Soccer As the Beautiful Game.