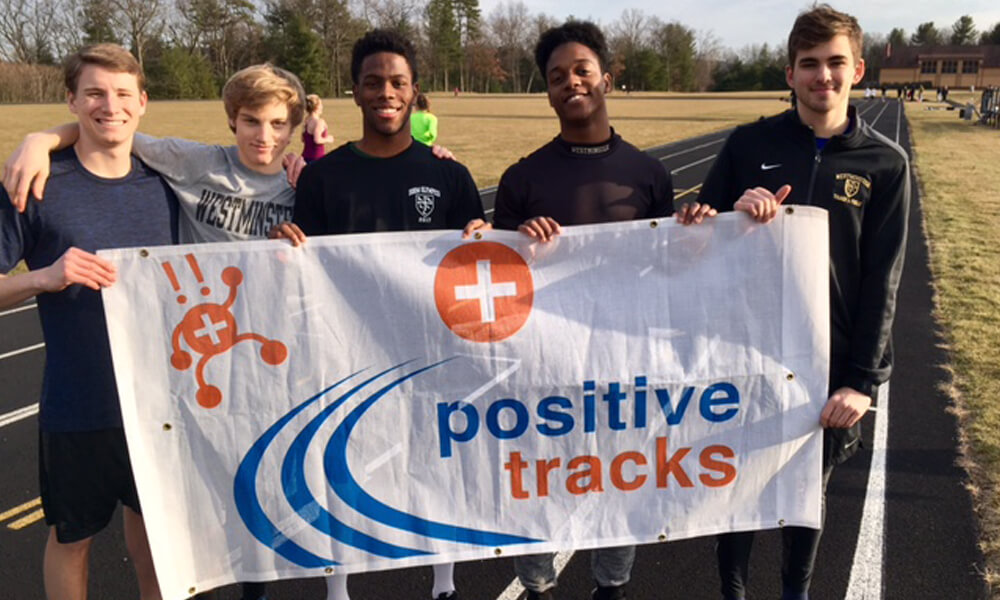 POSITIVE TRACKS is a national, public charity with office bases in Hanover, New Hampshire and Boston, Massachusetts.
WE BELIEVE that service and athletics blend to create powerful leadership experiences that positively shape the lives of young people and the communities they live in. We also believe that young people must feel their voices matter and be active in the process of making change for youth to reap the personal benefits of civic contribution.
ATHLETICS HELP young people connect in a safe space so they can explore complex issues on their own terms and turf. Sport also cultivates leadership skills, perseverance, grit and healthy lifestyles. Most importantly, athletics provides an inclusive pathway that's compelling and fun to young people. The Positive Tracks Core Strength Curriculum uses a sports-based framework to teach youth how to explore and progress complex issues via facilitated dialogue, hands on service learning, and event execution.
Positive Tracks empowers youth to use sport as a change agent through two programs: Positive Tracks Challenges and Positive Tracks Sweat Labs. Each provide mentorship and organizing experiences that help young people realize they can make a difference now, using something they already have – their own compassion, their own muscle.
CHALLENGES are youth-led athletic efforts designed to champion a cause. Youth ages 23 and under apply to Positive Tracks for free mentorship, amplification and resources. Captains recruit an average of 70 peers to each event, which becomes a vehicle for civic engagement, mobilization and active fun.
SWEAT LABS bring youth together to facilitate conversation and exploration around core issues and root causes. Athletic activity is integrated into Sweat Lab curriculum so participants experience how open dialogue, community mobilization and actionable strategy are key fundamentals in making change.
ENDGAME: Our goal is ambitious: A national movement, led by young people and rooted in representation from all backgrounds and perspectives. By the end of 2018: we'll have engaged 63,000+ youth who, together, will turn 350,000+ miles of athletic activity into advocacy of core issues and $10,000,000+ for dozens of organizations and causes.
Click HERE to learn more!