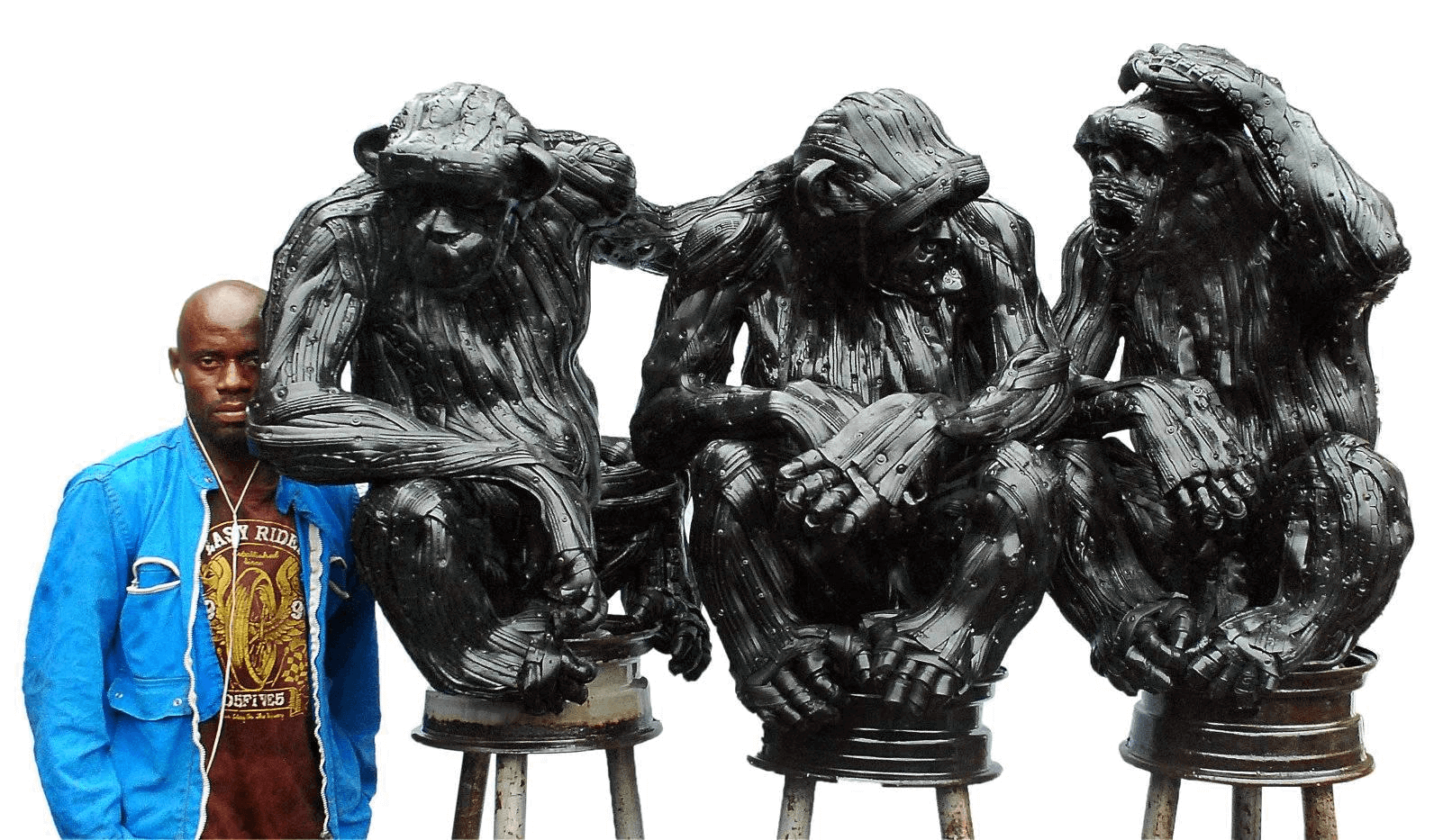 Nkwocha Ernest lives in Lagos, Nigeria and has mastered the art of turning used rubber tires into amazing art. In so doing, he is cleaning up his city and shining a light on what is possible when one thinks creatively. Here are a few more images, but be sure to watch him during our festival!
Here is his bio cited from the Ted talk he gave.
Ernest Nkwocha is the extraordinary tyre sculptor of Lagos with the rare and uncanny knack for seeing the beauty in the seemingly mundane. He expresses this talent by sculpting intriguing artworks with, of all things, disposed tyres found around the metropolis. Driven by a desire to foster a cleaner and less wasteful Lagos, Nkwocha has taken seven years to hone his tyre-sculpting skills, and this has resulted in some international exposure for the artist. Just recently, in April of 2019, he was featured on one of the world's largest broadcasting channels, BBC, where the world got a glimpse into his creative process and also got to see some of his best work as well. Nkwocha has participated in many art exhibitions including the Auchi Art Convention (2009); October Rain, Nike Art Gallery (2013 and 2014); and the SNA Centennary, Omenka Gallery (2015). In 2016, he made his first big break by holding his first solo exhibition at the Nike Art Gallery, Lekki. The event which was tagged "Me and My Environment – an Exhibition of Sculptures" ran for 6 days within which art aficionados from all over the city came to take in the sights of his beautiful sculptures. Holding a degree from the Auchi Polytechnic, Edo State, Nigeria, Ernest Nkwocha's dream is to help shape the global discourse on art by traversing the world with his unique works. From an unknown Ajegunle boy to an increasingly famous artist, Ernest Nkwocha uses his unique gift to tell a powerful story of how a little paradigm shift can uncover a treasure trove of wealth hitherto unseen.