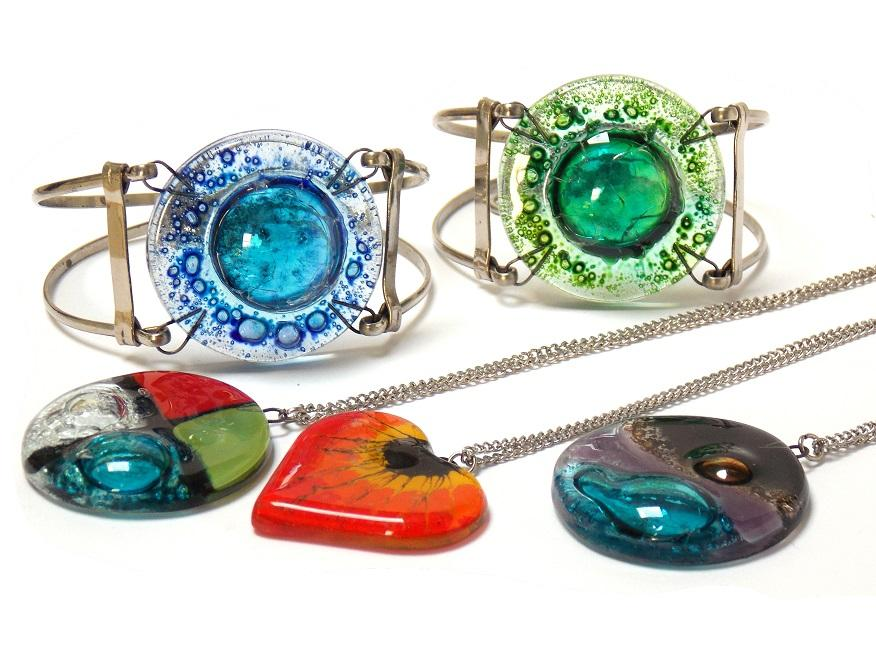 Recycled Glass Jewelry is a small studio in Melrose MA created by Carolina Portillo. We design one of a kind jewelry and love working primarily with float glass (window glass), leather and other "found" materials. We appreciate the opportunity to create something new, meaningful and artistic out of recycled materials that might otherwise go unused. This is a cornerstone of our eco-friendly approach, aiming to create art that is both pleasing to the eye and unique at the same that it also treats the environment with respect.
All the jewelry is handmade of recycled glass. This is real glass that comes from windows and other more traditional sources. The glass is cut, polished, painted and assembled, then placed in a kiln to fuse. During the firing the layers melt together, round sharp edges and improve the colors and texture of the surface. That is when the magic happens! When the glass fuses, colors become vibrant, the glass bubbles and each design becomes a unique creation due to the "vitro-fusion" process.
"Eco-friendly jewelry" at its finest!
Click HERE to learn more.