Sherman & Cherie's Beezy Bees produces and sells award- winning wildflower honey, and products using honey and beeswax. These include hand creams, lip balms, Heal the Heels, soaps, as well as Paws & Schnauz for pets,
Sherman & Cherie's Beezy Bees was founded in 2017 in western Massachusetts. Our interest in bees began in 2014 when we purchased our first hives. Ever since that time, our passion for bees has grown and led us to create S&C's Beezy Bees. We have been fortunate to have the opportunity to house our apiary at Brookfield Farm in Amherst, MA as well as in Longmeadow, MA.
Wildflower honey is composed of a variety of flowers available to the bees over the spring, summer, and early fall months. Our bees produce their award-winning honey by pollenating a wide variety of wild flowers, fruits and vegetables. Because of the different vegetation available to the bees, the honey produced varies in color and flavor from season to season, and year to year. As a general rule, lighter honey is produced from plants blooming in the spring, and darker honey from plants blooming in the summer/early fall. Some honey is seasonal as it is produced in limited quantities.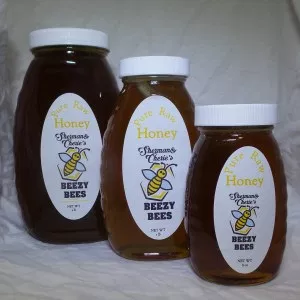 Click HERE to learn more.