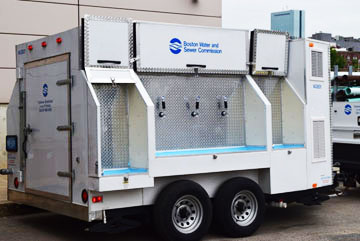 Boston is home to New England's oldest and largest water, sewer and stormwater systems, which are owned, maintained and operated by BWSC. Established in 1977, BWSC provides potable water and sewer services to more than one million people per day. BWSC is also the leading organizer of We Are All Connected, a campaign to raise public awareness about the importance of protecting and preserving Boston's waterways.
We strive to provide our customers with the highest quality water and sewer service. We want our customers to understand the value of these systems and how well-maintained systems protect the environment. To accomplish this, BWSC effectively utilizes state-of-the-art technologies and offers numerous educational and customer programs. In addition, BWSC is a 24 hours/7 days a week operation. We are committed to responding to our customers.
BWSC maintains, improves and manages the water and sewer systems throughout the City of Boston. BWSC has a comprehensive, three-year Capital Improvement Plan (CIP) that identifies needed repairs or rehabil-itations, establishes a planning process and implements construction. Our leak detection efforts have set the standard within the industry for keeping unaccounted-for water at a minimum.
Click HERE to learn more!