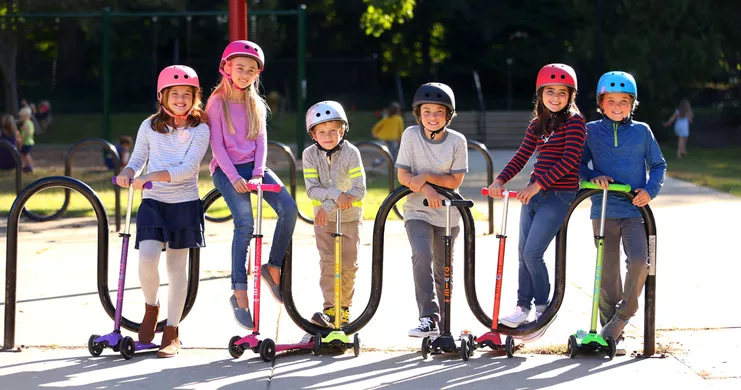 Micro Kickboard is the U.S. distributor for innovative Swiss company Micro-Mobility, maker of the world's best-rated scooters and kickboards and other innovative products used for urban mobility. Micro leads the revolution in personal transport and from its start in 1999, Micro has been known for its minimalist designs and excellence in engineering, winning prestigious design awards worldwide. Designed for adults as well as children, there's a quality Micro for ages 1 to 99+.
In the USA, we offer the most complete line of Micro products and service, selling through high-end specialty and department stores across the country and also directly to consumers via our website.
Our Micro family in the US is a group of individuals united by a passion for scooting the great outdoors. When we founded Micro Kickboard, we set a goal of being as good as the products Micro makes. Not an easy goal, as the exceptional design and innovation coming out of Switzerland just never stops! So, we are on the move to improve each and every day, which makes the work fun and the fun work.
We first discovered Micro while living in central London when we spotted a commuter on a scooter and fell in love (with the scooter). Our first Micro was the Flex. Almost immediately we recognized how Micro's high-end designs would transform scooting. As city dwellers, we liked being able to get places more quickly than walking, without having to ride in the street. Our admiration and enjoyment of Micro scooters turned into a passion which led us to approach Micro Switzerland, with the help of Micro UK friends Anna and Philippa, about becoming their distributor when we moved to the US in 2007.
We are now enjoying watching the growth in scooting for transport as well as for fun. Riders now include the young and the old, urbanites and suburbanites, families, college students, last-mile commuters, grocery shoppers and kindergartners!
To learn more click HERE!