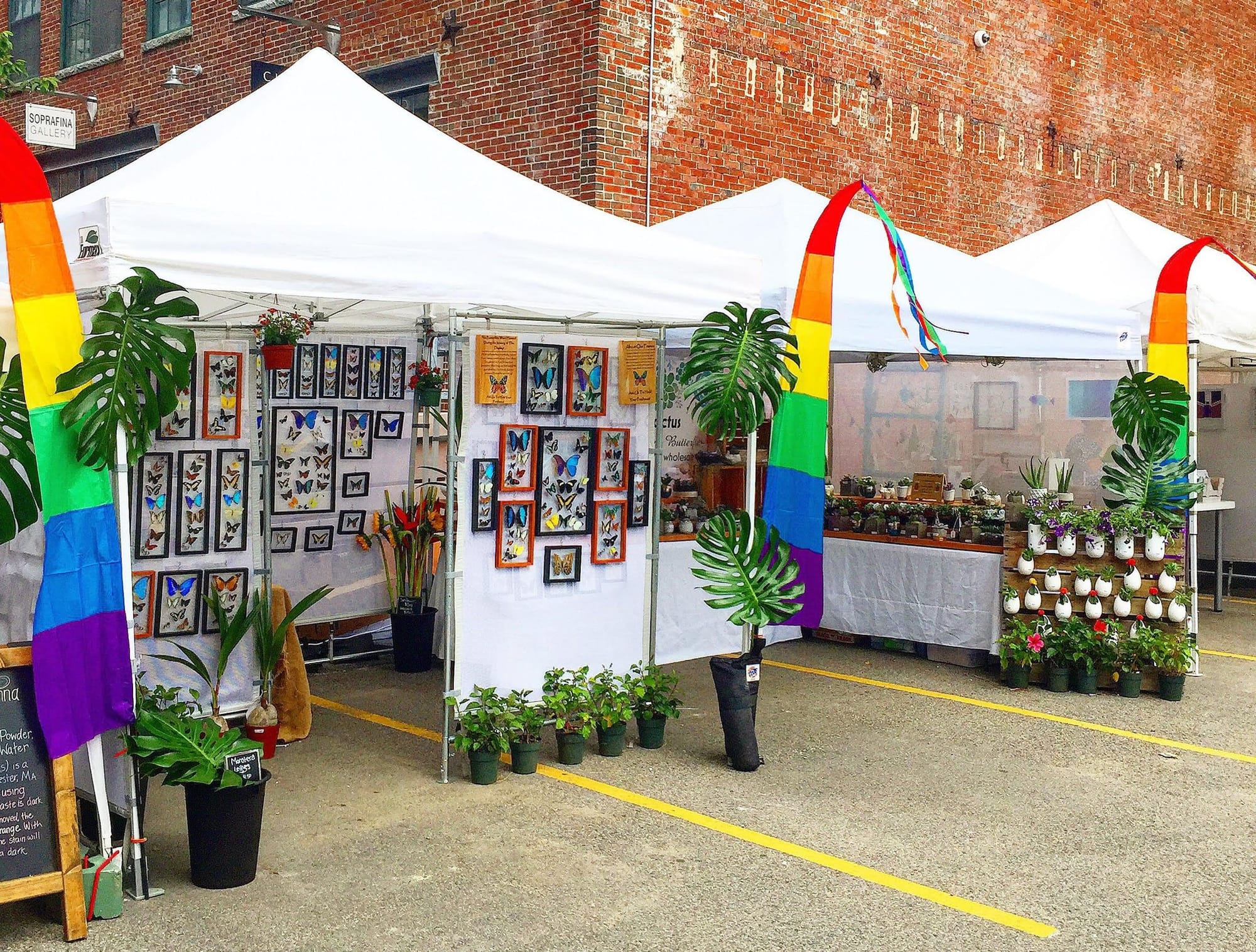 Formed in January of 2017, The Happy Cactus is a young, market based, unique gift supplier. As a company, our goal is:
to act as enablers of human creativity; empowering artisans by bringing consumers unique, handcrafted products from around the world; and to support and enable the less fortunate through charitable contribution and socially responsible business practices
The Happy Cactus started as a market based business with all of our retail sales occurring at artisan and craft fairs in the Greater Boston area and beyond. While markets still lie at the heart of our business, we are thrilled to have a permanent booth for the holiday season at 171 Newbury Street, the location of The Boston Bazaar.
The Boston Bazaar is an incredible collective of 17 artists (and getting bigger!) located in one of the best shopping locations in Boston: Newbury Street. Open through December 31, this unique boutique is a one stop shop for all your holiday gift needs. From one of a kind, handmade jewelry, to children's toys, gourmet chocolate and - of course - succulents and butterfly art, as well as much more, the Bazaar has a captivating selection of handcrafted goods. Stop by to browse some of the highest quality handmade goods in Boston all under one roof!
For more information on the Bazaar and the markets we'll be attending, you can visit our market schedule page.
More about our products:
Succulents & Cacti are a budding trend in the Northeast. Indigenous to arid, desert like climates, these hardy, low maintenance plants come in a fascinating variety of shapes and colors making them an easy and unique way to bring life into your home. Not only do they make excellent home decor, they're also perfect for gifts, wedding favors, event centerpieces and more. They're easy to care for, requiring very minimal water, and they propagate (reproduce into more succulents) like crazy! Our succulent and cacti arrangements are all handmade by The Happy Cactus Team, and we never skimp on quality! Fore more information on succulents check out our Succulent Info & Care page.
We also offer air plants, the perfect plant pair to succulents! Air plants, also known by their genus name tillandsia, are very low maintenance and don't even require any sort of rooting medium. That means NO SOIL! Indigenous to places like Mexico, South and Central America and Florida, they're designed to absorb moisture and nutrients through their leaves, rather than their roots, and are expertly equipped to deal with drought and neglect. By not requiring any soil, air plants are very versatile when it comes to display. They can be placed essentially anywhere, and can even be attached, via glue, velcro, wire, or other means, to unique containers like shells, cork, or driftwood! For more information on these fascinating forms of life, visit our Air Plant Info & Care page.
Our Real Butterfly Frames, ethically sourced from Peru where they're handcrafted all the way down to the dye used to paint the frame (the brown frames are painted with a dye derived from the roots of trees in the Peruvian rainforest) are a vibrantly unique way to bring life into your home. The butterflies are never harmed in the process! All our butterflies are farm-raised in a conservation effort and live out the entirety of their life in giant netted enclosures where they're free from any natural predators. After they die naturally, they're expertly preserved and placed in beautiful frames allowing you to appreciate and enjoy the breathtaking butterflies for years and years. Not only does the production of our frames help support butterfly habitats (we only used farm-raised butterflies) it also allows for local Peruvians to make a living off one of the few valuable resources at their disposal. For more information check out our About the Butterflies page.
IMPORTANT NOTICE: The pictures on the Butterfly Catalog are only examples. Each frame features different butterflies that fit the product description and some of the larger frames have varying designs. To pick the EXACT frame you want, find us at a market and buy your frame in person! (its also cheaper to buy in person: you don't have to pay for shipping & handling!!!)
In addition to offering our two major product lines at markets, we also offer a variety of additional succulent services: a succulent of the month club, plant nights, weddings and event design, and wholesale and custom orders.
Click HERE to learn more!