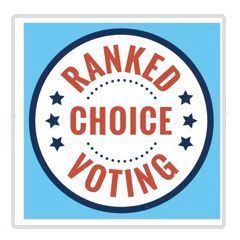 Ranked Choice Voting is a simple change to the way we vote.
In most elections today, you pick one candidate. With Ranked Choice Voting, you can rank multiple candidates in the order you prefer them — 1st choice, 2nd choice, 3rd choice, and so on. If your 1st choice can't win, your vote instantly counts toward your backup choice.
This solves a very big problem in our elections: the problem of "spoiler candidates" and vote-splitting. Today if you support an underdog candidate, you risk "throwing your vote away" on someone who can't win. Or if you support one of the front-runners, you hope that a similar candidate won't split their vote and hurt their chances. Too often our system pressures voters to choose the "lesser of two evils," discourages candidates from running, and elects candidates without a majority of support.
With RCV, your vote stays in play until one candidate wins with a majority — more than 50% — of the vote. If used for Massachusetts elections, Ranked Choice Voting would bring more voices and choices into our political process and ensure outcomes that more accurately reflect the will of the voters.
Click here to learn more!