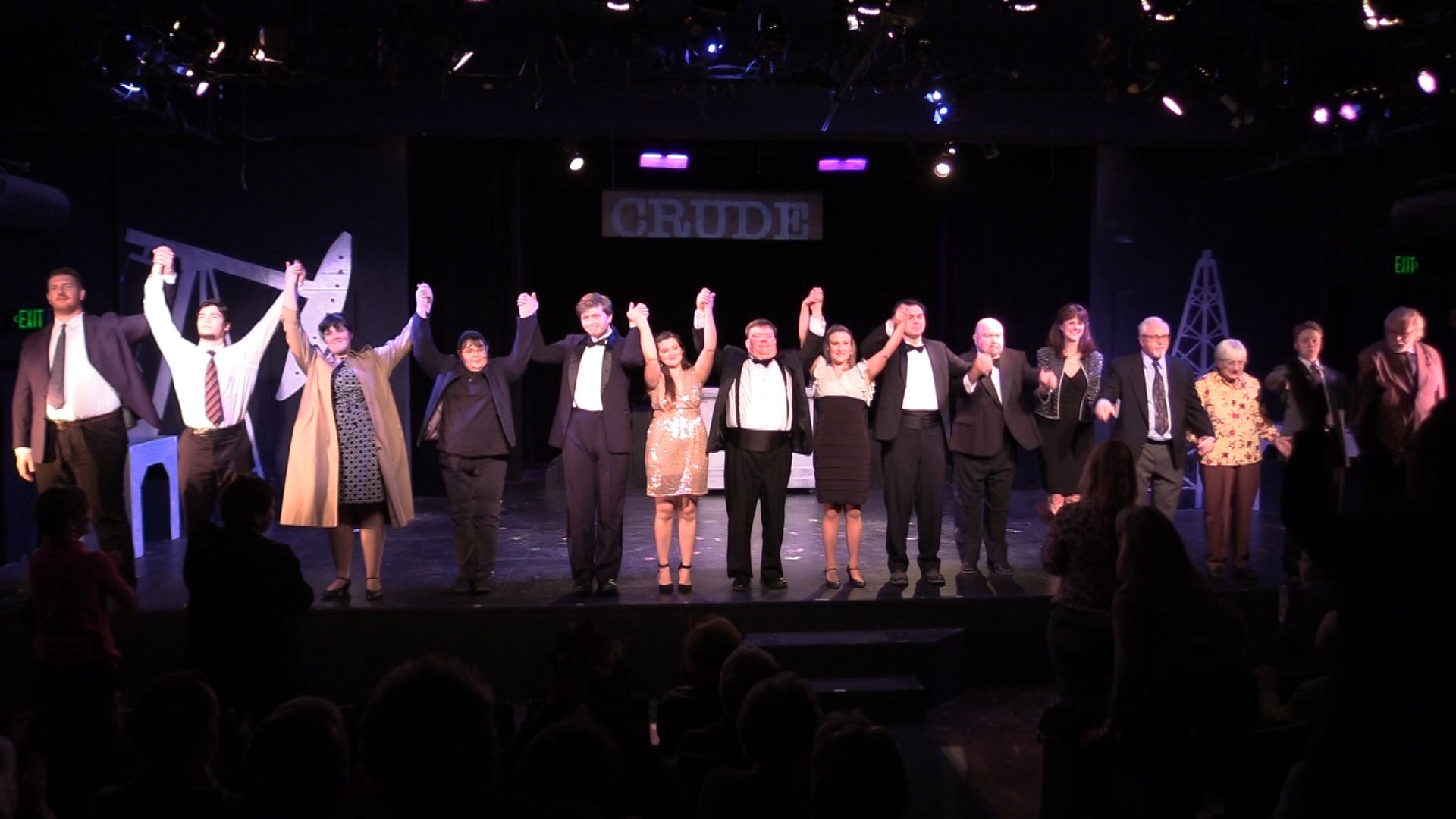 CRUDE - The Climate Change Musical is a new comedy about an environmentalist daughter who outwits her oil tycoon Dad.
It's a musical romp through the world of big Oil, high stakes Public Relations and Investigative Journalism, where family politics, corporate intrigue and unlikely romances keep the audience guessing who will come out on top.
CRUDE's plot is full of twists, turns and tunes ripped from today's headlines: "Go Green," "Downsizing, Outsourcing," "Trading in Crude," "Blow, Blow, Whistleblower, Blow," "The Power of PR," and, like any good musical, it has its share of love songs.
The show debuted at The Cape Cod Theatre Company, (CCTC) Oct. 10 – Nov. 10, 2019 and received enthusiastic audience response, from teens to seniors, and great press – including Front Page Coverage in the Sunday Cape Cod Times, Oct. 20, 2019 and coverage by Boston's WGBH and Cape & Islands Radio, WCAI.
"I wanted to get audiences thinking about climate change in a non-threatening, entertaining way," says CRUDE's author, Maureen Condon.
Condon's background as: An environmental reporter for The Patriot Ledger; Marketing Manager for Fortune 500 companies and software start-ups; and MarCom manager for WSI, a weather database company supplying The Weather Channel – all contributed to her knowledge-base for writing CRUDE.
CRUDE was produced by CCTC's Artistic Director Nina K. Schuessler; Directed by Frances Covais Lautenberger; Musical Direction by Chris Morris; Choreography by Maxie Davidson; Scenic & Lighting Design by Jim P. Byrne; Costume Design by Frances Covais Lautenberger; Sound Design & Technical Direction by Matt Kohler; Production Stage Management by Cella Mariani and Properties Management by Marybeth Travis. The album for CRUDE-THE CLIMATE CHANGE MUSICAL was produced and arranged by John McKenna & Co., Evergreen, CO.
The cast included many of Cape Cod's finest singers/actors: Anne Vohs, Brandon Prentiss, Terry Brady, Bill Farrell, Susanna Creel, Vaughn Yerkes, Debbie Barrette, Karen McPherson, Bob Moore, Brienna Notaro, Shiloh Pabst, Glenn Starner-Tate, Seamus Sartin, Mat Lautenberger, and Jillian Annessi.
CRUDE was: "An Official Selection of the 2016 New York Musical Festival;" Invited to the 2018 Chicago Musical Theatre Festival; and two songs from CRUDE have been performed by the Cape Symphony Orchestra.
Learn more about CRUDE – The Climate Change Musical
visit: www.crudetheclimatechangemusical.com