Sandy (Matoula) Theodorou is a vocalist, accordion, and laouto player who specializes in traditional Greek regional music and Greek urban rebetika. She is a core member of the bands REVMA (traditional, regional Greek music), REBETOPAREA (Rebetika: Greek urban blues), and OINOS (laika of the 50s and 60s and the compositions of Makis Emmanoulides). She was nominated for Best Sound Designer by the New Hampshire Theatre Awards for her design and performance of music for the theatrical production "The Burial At Thebes". She was a performing dancer with the Boston Lykeion Ellinidon and is currently chairperson of their Traditional Greek Music Department. She was born in Pireas, and musically inspired by her family roots in Epiros and Kefalonia.

REVMA plays a blend of village, island, and urban roots music from all across Greece. Evolved from centuries old traditional tunes and stories, our music features powerful odd-metered rhythms, lively island dances, mesmerizing polyphonic ballads, and delicate modal tones. It's power and depth have moved hearts and feet at dances, festivals, intimate listening venues, and participatory workshops including: Maliotis Cultural Center annual concerts, Hellenic Dance Federation Conferences, The Flurry Festival, Tarpon Springs Epiphany Celebration, East Coast Balkan Music Night, Boston Lykeion Ellinidon's "Karnavali", Jose Mateo Dance Saturdays Series, Greek Festivals throughout New England, private events, local community concerts, and schools.
Our musicians are:
Rohan Gregory (violin)
Rohan Gregory is a violinist that has cultivated a wide-ranging expertise in world music, chamber music and new music. Rohan played with the Sophia Bilides Greek Folk ensemble for eight years,touring the U.S. and playing extensively throughout New England. His other world music endeavors have taken him to Europe with the Klezmatics, to Thailand with multi-ethnic flute player Abbie Rabinowitz, and to India with the Indo-jazz group Natraj. Recently he has played nationally and internationally with the flamenco guitarist Juanito Pascual. He is a member of the Worcester Chamber MusicSociety, and is presently a member of the Pedroia String Quartet. He spent ten years as a member of QX, a string quartet that has been in residence at Clark University, and he was also a founding member for ten years of the Arden String Quartet, performing new music concerts in New York, Boston, Amsterdam and St. Petersburg, Russia. Locally, Rohan is a member of the Lyric Opera Company and the Boston Modern Orchestra Project. He coaches chamber music for the Walnut Hill School, teaches at the College of the Holy Cross, and spends his summers coaching at the Apple Hill Center for Chamber music in New Hampshire, at Music at Port Milford in Ontario, Canada, and at the WCMS Summer Festival.
Fabio Pirozzolo (doumbek, daouli, defi, vocals)
Fabio Pirozzolo is a drummer, multi-percussionist and singer. Originally from Terracina, Italy, he started his career as a folk percussionist, playing Italian frame drums Tamburello and Tammorra in one of the most active folk groups in his area. This experience gave him the opportunity to travel throughout Europe, playing concert and giving lectures on regional Italian frame drums techniques. A Summa Cum Laude Berklee College of Music graduated he p erformed and performs in virtually any genre of music from Jazz to World Music to Rock. He's the co-founder of the World music ensemble Grand Fatilla and Italian folk music ensemble Newpoli where he plays percussion and sings. Highly in demand both as a drummer and as percussionist, he's currently the drummer/percussionist for Musaner and Arev Armenian Folk ensemble. His experiences led him to drum for Herb Reed's Platters, Mario Frangoulis and George Perris amongst other world class performers. He also collaborates with Berklee College world-class teachers Skip Hadden and Casey Scheuerell. He taught master classes at Berklee and worked at Emerson College and Boston Conservatory as accompanist for dance classes. He's the author of all the drum transcriptions for Skip Hadden's drum book "Profiles in Jazz Drumming" and "Broken Eight's Time Feel". His transcriptions are also featured on the Italian drum magazines "Batteria e Percussioni", "Batteria", "Percussionista" and on Polish drum magazine "Top Drummer". In 2014, Fabio completed his master in Ethnomusicology at Tufts University. His thesis entitled "Central and Southern Italian Tambourines: Between Tradition an Innovation", is the first work in English language about Central and Southern Italian tambourines.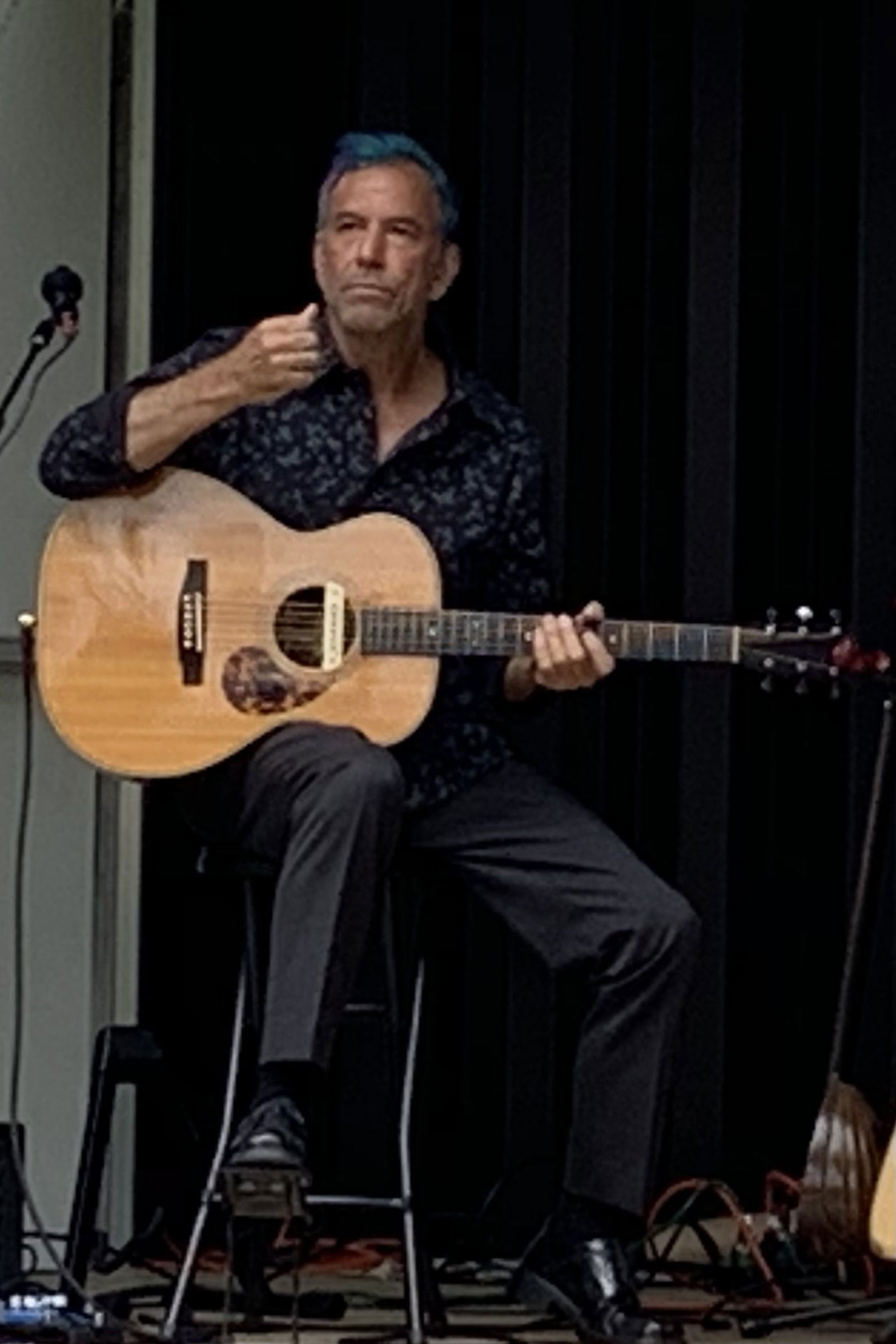 Mark Pattison (guitar, tzoura, baghlama)
Mark was raised by classically trained musicians who, long before he played an instrument, taught him to listen closely for all of the little details in the music, which seem to get lost as people replay the songs. Mark played English and American rock and blues, but a few years ago made the switch over to old style Greek urban blues (Rebetika).
Click HERE to learn more.