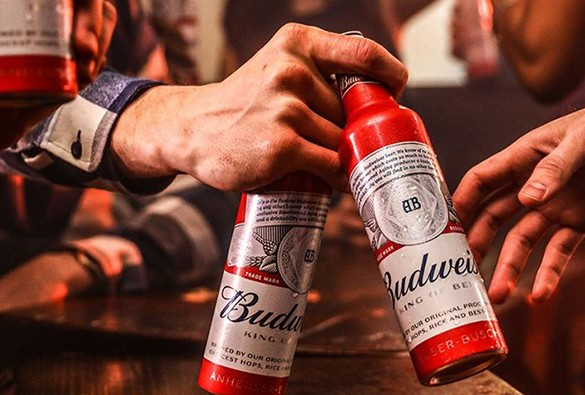 Brewed with the best barley malt and a blend of premium hop varieties, Budweiser is an icon of core American values like optimism and celebration.
Budweiser is part of the Anheuser-Busch Company and they are very serious about sustainability:
From their report:
"We want a world that's cleaner, greener and more sustainable for future generations. A world where we help to make the communities we live in stronger for everyone. Every member of our team—colleagues, wholesalers, retailers and partners—shares our commitment to reducing our environmental impact, preserving resources and being a strong community partner. We strive to build a better world, and that means doing our part to protect the environment by investing in efforts to promote water conservation and improve energy efficiency across our entire value chain.
Now, we are challenging ourselves to do more through our 2025 Sustainability Goals
The goals, which will guide our sustainability efforts in the U.S. through 2025 focus on four key areas: renewable electricity and carbon reduction, water stewardship, smart agriculture, and circular packaging:
Renewable Electricity and Carbon Reduction: 100% of purchased electricity will come from renewable sources; and CO2 emissions across the value chain will be reduced by 25%
Water Stewardship: 100% of facilities will be engaged in water efficiency efforts; and 100% of our communities in high stress areas will have measurably improved water availability and quality
Smart Agriculture: 100% of direct farmers will be highly skilled, connected and financially empowered
Circular Packaging: 100% of packaging will be made from majority recycled content or will be returnable
These ambitious goals are part of our company-wide commitment to leadership and innovation in sustainability. Investing in a more sustainable future not only helps us build a better world, it also moves our business forward. This is a team effort—together with our wholesalers, suppliers, retailers, NGOs and government partners and more than 18,000 colleagues across the country—we are committed to driving change, not just within our facilities, but in the broader communities where we live and work.
When it comes down to it, we can't brew quality beer without quality water and ingredients. Learn more about our major efforts in water stewardship, recycling, waste management, and energy conservation by clicking these links: Water | Recycle | Energy